« previous: How to Be Prepared Without Being a Crazy Prepper | next: Delicious, Kid-Friendly, Super-Easy Salmon Recipe »
The $5 Tool That Will Save You Hundreds of Dollars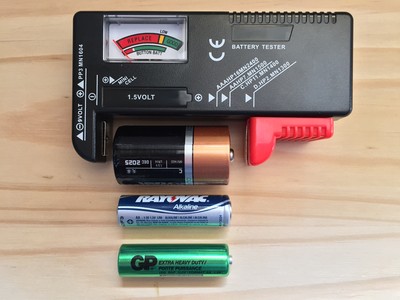 You think you know about batteries, right? Actually you probably barely think about batteries at all, because they're such a mundane item in our daily lives. What's there to think about?
Well I recently learned something about batteries that was downright stunning. Shocking, even.
When a battery-powered device stops working, you take out the dead batteries, chuck 'em, and install fresh ones, right?
What if I told you that half of those "dead" batteries that you've been chucking for your whole life are not dead at all? That they are, in fact, almost brand-new and full?
It's true. Since I bought this little $5 gadget last month, I've been testing the "dead" batteries that I pull out of dead toys, lights, etc. And most of the time, half of the batteries in the device are dead as a doornail, while the other half are still almost fully charged!
This seems so unbelievable. There's no way I would believe this if I hadn't witnessed it myself repeatedly. Well, you'll just have to try it and see.


Posted by
Mar 5, 2016
| reply
on
Reply to this message here:
Home – Create Post – Archives – Login – CMS by Encodable