« previous: 3 Easy Ways to Drastically Boost Your Health Today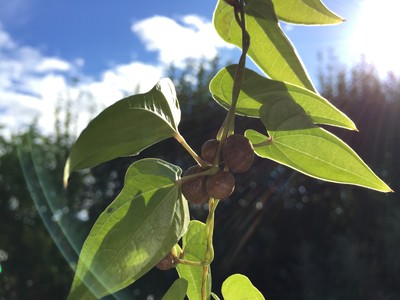 Have you ever heard of Chinese yam? I hadn't either until I saw it on the Food Forest Farm website.
It's essentially a perennial potato, but it gives you two kinds of potatoes: one huge potato that grows underground to be harvested every few years, plus an annual crop of "yamberries" that grow on the vines in late summer.
I planted some chinese yam in April this year, and by August I had a few 5-foot vines that were covered in a few hundred yam berries.
These yam berries are tiny (a half-inch or so), but there are tons of them, and they are delicious! Just fry them up in butter and they're basically like crunchy little french fries or homefries.
They are also very easy: no cleaning required since they grow above ground, no peeling, and they fall right off the vine.
Did I mention that chinese yam is perennial? And from what I've read, it also grows and spreads like a weed. So it's super easy to grow: plant it once, and you get free potatoes forever.
Win-win! Go get some!


Posted by
Oct
23, 2017
| reply
on
Reply to this message here:
Home – Create Post – Archives – Login – CMS by Encodable