My Camera Gear
My camera -- the first camera I've ever owned -- is the 4 megapixel Sony DSC-S85 digital camera. You can get all the detailed specs and read a full professional review on this dpreview.com page. But for a brief commentary by me: this camera is amazing. It takes beautiful photos even on the full-auto mode, but it does also have full-manual controls. (Nearly all the photos on my website were taken in full-auto mode.)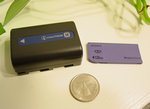 The camera uses Sony Memory Stick media, which are about the tiniest, coolest things ever invented. At full 4 megapixel resolution -- 2272x1704 -- the camera fits about 65 photos on a 128MB Memory Stick. The battery is the proprietary Sony InfoLithium NP-FM50, and it lasts about 3 straight hours. These batteries are awesome because they tell you how much time, in minutes, till the battery dies. So when I pop a fresh one into the camera, it says 180 minutes left.
The camera cost me $660 plus about $40 in shipping from dbuys.com in October 2001. As of February 2003, it costs $475!! That's a steal for this camera. The camera includes one NP-FM50 battery, a battery charger (which is just cables -- it charges inside the camera), a 16MB memory stick (that holds 10 photos at 4 megapixels), and a USB cable to connect it to the computer.
The camera has a built-in 3x optical zoom, which is incredibly handy. (It also has a "digital zoom," but that just crops your photo and decreases your resolution, so of course I always keep that turned off.) But I wanted more. I bought a 2x telephoto lens, the Tiffen MegaPlus 2x Telephoto Converter, from Circuit City for $100.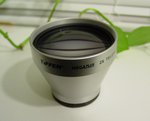 This is a 67mm objective lens, with 43mm threads to attach to your camera. Well, the DSC-S85 has either 44mm or 45mm threads, so I needed an adapter. Sony sells the VAD-S70 for $35; Circuit City sells a Tiffen adapter that does the same thing for $10. So I got that one.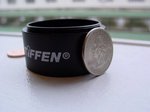 This is just a hollow cylinder that's about one inch deep, with 44mm or 45mm male threads on the camera side, and 43mm female threads on the lens side. (Note: neither the camera's specifications nor the Tiffen or Sony adapter's literature tell the size of those male threads, so I measured them, and I can't tell whether they're 44mm or 45mm. So that's why I have both listed.) This adapter serves two purposes: 1) to provide the correct thread size, and 2) to allow you to use the camera's built-in zoom lens (which protrudes about one inch) at the same time as an external lens. So, with this adapter in place and the Tiffen 2x lens attached, I have 3x times 2x equals 6x of zoom power. Unless they add, rather than multiply, in which case it's 5x of zoom power. I don't actually know which it is.
However I still wanted more zoom.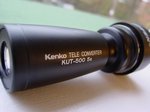 I like to take photos of the moon, so I want to get really close. I searched online and found the Kenko Tele Converter KUT-500 5x zoom lens!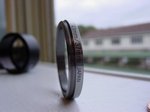 This thing is basically a monocular. It's 4 inches long and 1.5 inches in diameter at both ends -- the objective lens is tiny, about 19mm, so you get severe vignetting on your photos. But for taking photos of small, distant objects like the moon or far-away animals, this doesn't matter, because you can simply crop the photo later, and the subject is all zoomed in. Anyway this lens was $100 at Sweetronics, and it has 37mm male threads on it. So I needed a 43mm-male-to-37mm-female step-down adapter ring, which would then thread into my $10 Tiffen adapter mentioned above. I found such a step-down ring made by Bower at photofilter.net for $6. So using this 5x lens together with my camera's built-in 3x zoom, I have 15x (or is it 8x?) of zoom power.
Other than that, I bought an extra Sony NP-FM50 battery for $60 at Circuit City; a 128MB memory stick at Circuit City for $150 in October 2001; a second 128MB memory stick for $80 at Circuit City in April or May 2002; a SmartDisk memory stick reader for $20 from buy.com; and a small Ambico camera case (PD-2504) that is just the right size for the camera, the Kenko lens with the 2 adapters, the extra battery and 2 memory sticks, and the USB cable.
Check out these photos of all my camera gear.