« previous: Goodbye Shadycrest | next: You Must Be At Least This Smart To Use The Internet »
Well, I finally went crazy insane and bought an Apple computer.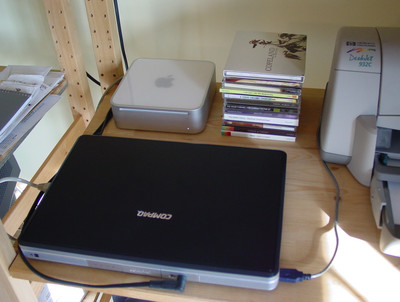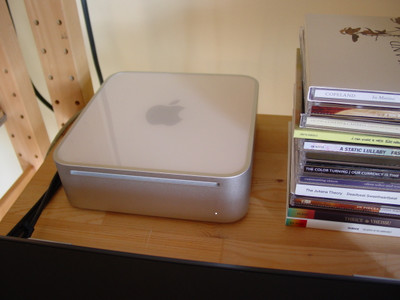 The Mac Mini is actually pretty cool, mainly because it's so small. But in any case, I needed a Mac system so that I can develop and debug web pages in its Safari web browser, and that's basically all I'm going to use the Mini for.
Within a few days of having it up and running, I was able to spend some time getting FileChucker to work properly in Safari, so it now works in all modern browsers.
Of course, a couple weeks after I buy the thing, Apple releases a big update to the Mini, most notably including the switch from the old PowerPC architecture to the x86 architecture: the Mini now runs either an Intel Core Solo chip or an Intel Core Duo chip. Other fun upgrades include:
Quoting ARS:

...built-in 802.11g and Bluetooth support, 4 USB 2.0 ports, gigabit Ethernet, analog and Dolby Digital audio out, DVI video out, two slots for RAM, and 512MB of PC2-5300 DDR RAM (to go with its 667MHz FSB)...
So that's kinda stinky, but on the other hand, it's cool to have one of the last PPC-based Macs too. However, I wouldn't mind having the increased performance of the newer units:
Quoting ARS:

Steve Jobs claimed that the new Core Solo Mac mini is anywhere from 2.5 to 3.2x faster than its PowerPC 7447 predecessor...
But that's OK. As I said, I'm not going to use the system very much anyway; I'm just glad to be able to have a system running Safari to debug web applications on.

Comments:
Reply to this message here:
Home – Create Post – Archives – Login – CMS by Encodable