« previous: Half Off Dell Notebooks | next: Pittsburgh »
The new Armor For Sleep album is really good. Check out this track from it.
Over the past few days I've taken a lot of photos:
Ducks and Fog on K-Milk Pond Clouds and Skies and Shiloh Treeline at Dusk
Finally, check out this awesome error I got from one of the ancient Mac OS9 systems at work: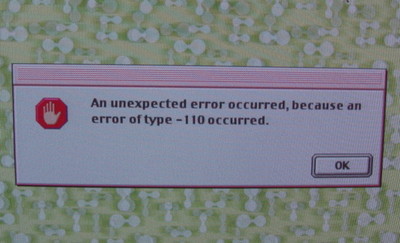 "An unexpected error occurred, because an error of type -110 occurred."

Comments:
Reply to this message here:
[ Home – Create Post – Archives – Login – CMS by Encodable ]