« previous: Funny Things | next: Thanks Uncle Anthony and Aunt Kim! »
I have just completed a redesign of JeanniesPhotos.com: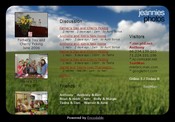 Click the image to see the screenshot full-size, or just visit jeanniesphotos.com.
I may still need to tweak the text to improve the readability, like the photo-set names when they are on top of the grass at the bottom of the image.


Comments:
Reply to this message here:
[ Home – Create Post – Archives – Login – CMS by Encodable ]