« previous: iPhone Now $99 | next: Kettle Brand Krinkle Cut Potato Chips - Salt and Fresh Ground Pepper »
About 18 months ago, I was sitting at my desk minding my own business, when suddenly my chair made a terrible cracking noise, dropped down an inch or two, and tilted off to one side. The end of a bolt apparently snapped off -- an important bolt. After that it was really squeaky, but the actual sitting experience wasn't so degraded that I felt the need to get a new chair right away.
I finally did get a new chair last week. The previous one with the defective bolt was from Staples so naturally that's where I went to get the new one.
I spent about half an hour in the store trying a few of their couple dozen chairs, and finally settled on this one: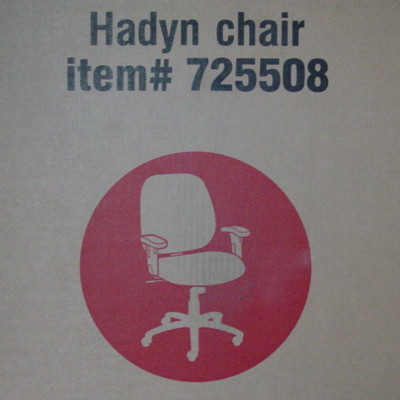 I knew I liked it when I opened the box and found the parts packaged like this: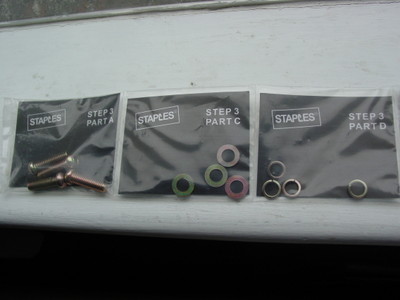 That's such an obvious idea, but nothing else I've ever bought has used it. Normally the parts are all together on one piece of cardboard with a key that you have to match up to the instructions. This way is much better. Of course it's randomly missing letters (as in "Part B" in the photo), but I guess you can't have everything.
But then I actually opened the instructions and saw this: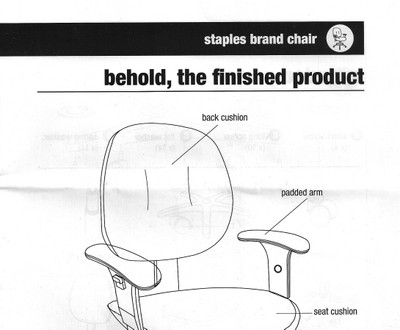 ...which obviously makes these the best instructions ever.

Comments:
Reply to this message here:
[ Home – Create Post – Archives – Login – CMS by Encodable ]