« previous: My Cure for Headaches | next: Restaurant Review: A Ca Mia Italian Restaurant in Walnutport, PA »
Delicious and Simple Home-Made Pizza Recipe (and It's Gluten-Free To Boot)
I am apparently a pizza snob. I'd say at least 75% of the pizza I've had in my life has been utter crap. So I'm really glad to have pizza that I can make at home, that's not only delicious, but super easy, and gluten-free too. There are only five ingredients:
Crust: "Three Cheese Pizza Shell" from Against The Grain Gourmet, in the freezer section at the grocery store; Wegmans has it.
Sauce: Rao's "Dinner To Go" Italian Sausage & Mushroom Sauce. Of course you can use pretty much any sauce you want, but this Rao's sauce is amazing, it's not all loaded up with sugar like so many sauces, and it's got big chunks of sausage and mushroom, so if you like those, it's a bonus three ingredients in one.
Cheese: Sargento Artisan Blends Whole Milk Mozzarella, pre-shredded in an 8oz bag, which is just the right size. Probably any shredded mozzarella would do, just don't get any low-fat garbage.
Spices: just garlic salt and oregano.
The recipe:
1. Pre-heat the oven to 400F.
2. Put the frozen crust directly on the oven rack and cook for ~10 minutes.
3. Take out the crust, top it with ~340g of sauce (which is half the bottle).
4. Sprinkle with garlic salt and oregano.
5. Cover with 8oz of shredded mozzarella.
6. Sprinkle with even more garlic salt and oregano.
7. Cook at 400F for ~13 minutes.
The crust will be crispy/crunchy and amazing, but if you prefer your crust soft, then a) what's wrong with you, and b) just skip the step where you cook the crust by itself first, or shorten it to just a couple of minutes.
The Against The Grain crust (or "shell") is the key here. Mozzarella is pretty much always amazing, and the sauce can be whatever kind of sauce you love, so you just need a good crust, and these guys have nailed it.
Some photos of the ingredients and the finished product: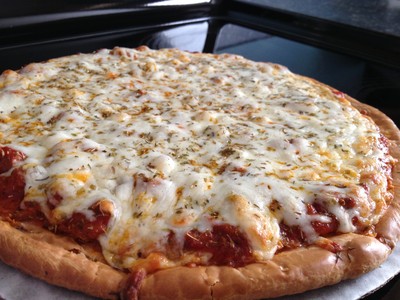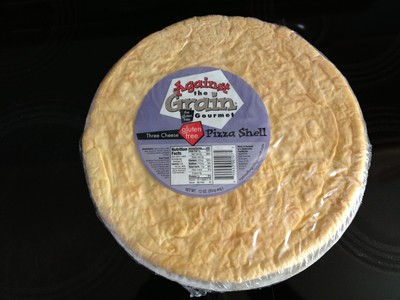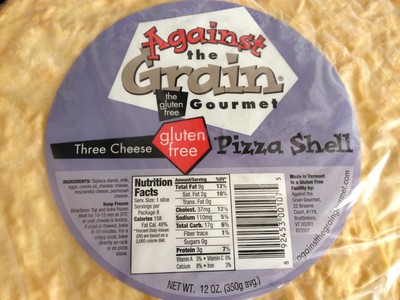 Comments:
Reply to this message here:
Home – Create Post – Archives – Login – CMS by Encodable