« previous: Restaurant Review: Na'Brasa Brazilian Steakhouse | next: The Perfect Egg Flipper: Lodge 8-Inch Cast-Iron Pan »
Nuts of Deception: Planters Mixed Nuts
I love Planters. From Honey Roasted Peanuts to Dry Roasted Sunflower Kernels to Mixed Nuts, they make some tasty snacks.
But a man can only turn a blind eye to injustice for so long. Shown below are the entire contents of a 248g pack of Planters Deluxe Mixed Nuts: Cashews, Almonds, Brazil Nuts, Pecans, and Pistachios: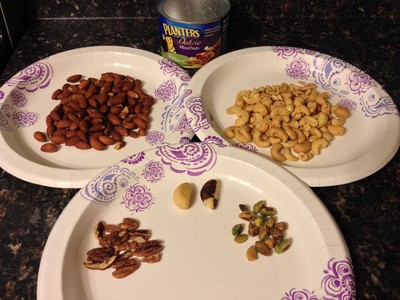 What's wrong with this picture?
This is not an anomaly. I eat these regularly and it's always the same. This time I decided to separate the nuts to see if the disparity was really as bad as it seemed to be. The results:
Cashews: 113g
Almonds: 113g
Brazil nuts: 8g (2 nuts)
Pecans: 8g (~6 nuts)
Pistachios: 8g (~16 nuts)
I know some nuts are more expensive than others so I don't expect the ratios to be exactly one to one... but TEN to one? That's just pathetic. Planters, you oughta be ashamed of yourselves.


Comments:
Reply to this message here:
Home – Back – Create Post – Archives – Login – CMS by Encodable