« previous: HDR and Tone-mapping with Qtpfsgui | next: Five Ducks With Bacon »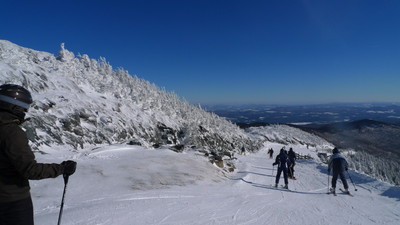 We just finished an awesome ski/snowboard trip to Jay Peak, Vermont with Rolly and Margie. Prior to this, I had only ever skied 3 days (on a single trip in Colorado), so although I'm not bad at it, I was definitely the newbie among this group of veterans.
I skied mostly blue trails and sustained no injuries despite a fair number of falls -- I haven't skied enough to be very confident at high speeds, so on steep slopes I tend to take a defensive posture and fall as I try to prevent picking up too much speed. That's not to say I'm always falling, because I had at least a few runs without a single fall, and my falls are always very minor...
...except for when I ended up on icy and steep black diamond trails on 2 occasions (JFK and Upper Exhibition, I'm looking at you), in which case I lost a ski and slid uncontrollably about 75 feet down the mountain. I was finally able to stop the slide, but was still in the middle of the mountain with lots more steep slope to go below me. Fortunately Kim was uphill from me so she picked up my ski and brought it down to me, while juggling flaming chainsaws.
The first day was partially a travel day, so we got in less than 2 hours of skiing. On the second day we skied pretty much the whole day, but by the third day my legs were beat, so I only skied about 90 minutes in the morning and took the afternoon off while the rest of the crew went back out. Unfortunately the last day was 40+ degrees and slightly rainy, so we started the ~9 hour drive home in the morning, rather than getting in a half-day of skiing or boarding as we had hoped.
Having only ever skied out west, and hearing a lot about the icy trails on the east coast, I didn't know what to expect going into this trip. But Jay Peak gets about 30 feet of snow per year -- far more than many east coast resorts -- and though it was definitely somewhat icy, it was tons of fun.
The other problem I often hear about east coast mountains is that they're overcrowded, with long waits at the lifts and little time on the slopes; but we went during the week, and it was not crowded at all. We had no waits whatsoever for the chair lifts, and the few times we took the tram we waited maybe 5-10 minutes. There were a few runs where we saw only 1 or 2 or even no other people. Jay Peak is so far north that it's practically in Canada, so I'm sure that also helps to reduce the crowds from Philly, New York, etc.
So while it may not be Steamboat Springs, Jay Peak is pretty awesome, and much better than I might have guessed that east coast skiing could be. And a 9-hour drive is far better than a 4-5 hour flight, especially considering that a 4-5 hour flight would include at least 2 hours of hassle on each end. If money and vacation time were infinite, we'd spend much more time in Colorado, but reality makes that less feasible, so I can see us going back to Jay for more trips like this.
(Other random observations: the Jay Peak Resort is a Pepsi-serving establishment, which is always nice, and increasingly rare in my eastern-Pennsylvania experience. And they have recycle bins in the hotel rooms; I've never seen that before, which is kind of sad really.)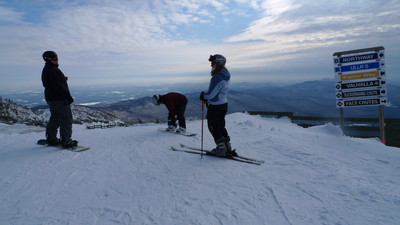 Now about that Idiot's Guide: when I skied in Colorado for the first time, I had a lot of trouble with my rented ski boots. Apparently the little bone on the outer sides of my feet (below the little toe) sticks out more than usual, and it was really sore by the second day. I had to put moleskin on either side of the bone to take some pressure off it, and figured that I might need to get ski boots that are custom-fitted with a little cutout in that area.
But on this trip, on the first day, I instead just had lots of pain all over the lower parts of my legs that were inside the boots, even though the boots seemed to be the right size and fit OK. On the second day I went back to the rental shop to ask if they could give me different ones in the same size. They told me the original boots were new, so they were better padded and perhaps not quite broken-in yet. So they gave me last year's version of the same model, which would be more broken-in. They seemed to feel better, but as soon as I walked and skied in them a little bit, I felt that pressure and pain on the bones on the sides of my feet. I took the boots back again, and spent some time talking to the guy at the rental place.
Ski-rental-guy led me to the source of the problem: I was wearing sweatpants under my snow pants, and the bottoms of the sweatpants were inside the ski boots. This was creating pressure points on my legs due to the extra fabric getting bunched up in the boot and then squeezed against my legs. He said that nothing except a good, thin ski sock -- and only a single pair, well-fitted to avoid wrinkles -- should be inside the ski boot. So I got the original well-padded boots back, put them on without the ends of my sweatpants inside them, and the problem was solved! I no longer had to look forward to skiing reluctantly, knowing that my feet/lower legs would be in pain the whole time.
So that's my first tip (more of a note-to-self, really): use a well-padded ski boot and don't let the ends of your pants/sweatpants down inside them.
The other problem I had was that my legs were dead by the 3rd day. I'm normally pretty active with exercise during the summers, but it's harder when it's cold outside, and I had been going for 1-mile walks a couple times a week for a couple months before the ski trip. Clearly that wasn't enough; skiing is really hard on your legs, and it requires a lot of leg muscle to be able to exert enough control to make turns properly, and especially to be able to maintain control & quickly re-establish control while skiing in icy conditions. So tip #2 is that you (I) need to *run* a couple miles, a couple times a week, to prepare for a ski trip.

Comments:
Reply to this message here:
[ Home – Create Post – Archives – Login – CMS by Encodable ]