« previous: Chicken Wings for Lazy People | next: Google Chrome OS »
Chicken Madeira at The Cheesecake Factory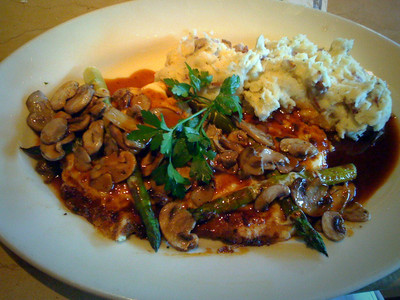 The Cheesecake Factory's Chicken Madeira is probably my favorite meal. I've had it about 5 times, and I think it's the only dish I've ever ordered at The Cheesecake Factory.
This isn't the most visually-appealing rendition of the dish that I've had, but it was delicious as always. The chicken is absurdly tender, lightly coated in some kind of egg-based batter, fried so it's a little crispy on the outside, then covered in mozzarella, mushrooms, and the amazing, slightly sweet Madeira wine sauce.
The couple of asparagus spears are a nice touch, and the mashed potatoes are really good too, but don't kid yourself: you're here for the chicken.


Posted by
Nov 20, 2009
| reply
on
Reply to this message here:
[ Home – Create Post – Archives – Login – CMS by Encodable ]