A few weeks ago, Kim and I took a little ski trip to Gore Mountain, New York. We'd never been there before, and this was only my third time skiing, so it was a new and exciting adventure.
We set out on a Tuesday around 1 PM, and arrived around 9 PM. The trip is nominally 6.5 hours, but we had a couple of detours for wild goose chases looking for restaurants that were listed on the iPhone maps app, but turned out to not exist (note: don't trust any "sponsored links" in there, and always check the satellite view to make sure the "restaurant" isn't on a back road in the middle of nowhere).
We also hit some pretty serious snow during the last hour or so of the drive, which slowed us down quite a bit. But our timing couldn't have been better, because overnight the Gore Mountain area got about 18 inches of snow. In fact, it snowed the entire time we were there, including another ~10 inches the second night/day, which made the whole trip extra awesome. Here's the view from our room's deck on the first night: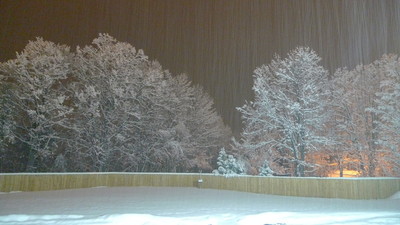 Welcome to North Creek
The little town of North Creek NY is a charming and sleepy place. It's a nice 20-minute drive from the highway, and when you get there, you wouldn't necessarily know that you're right next to a big popular ski mountain. We've resolved to take ski trips during the week to avoid the crowds and long lines, which makes the skiing much better, but we discovered that North Creek is kind of a ghost town during the week -- which is just fine, as far as we're concerned.
The whole town is basically one short main street with 10 or so local restaurants mixed amongst houses and small hotels. When we arrived around 9 PM, all but one of the restaurants was closed, and that one -- barVino -- looked nice but was more of a wine bar than a proper restaurant, and since it was empty and closing soon, we ended up just snacking in our room.
I don't think there is a single 24-hour establishment in North Creek, which is kind of strange when you're used to there being several 24-hour grocery stores and convenience stores within a 5-10 minute drive at all times. On the one hand it's nice, but around 9 PM on the second night, I developed a runny nose that just wouldn't stop, which made it very difficult to sleep; I would have paid a lot of money for some Nyquil. There's also no cell phone signal in the town, but fortunately there was free wifi at our hotel. The ski area was a few miles away and it did have cell coverage.
The Adirondack Alpine Lodge
We stayed at The Alpine Lodge, and I was extremely impressed with it. It seems brand new and was very clean and nice. The small hotel is well-designed, with large overhangs that keep the walkways -- and each room's private deck -- free of snow. The decor is very rustic, and all the furniture is beautiful and hand-made from mostly raw wood (i.e. tree branches). The shower, though a little small, had great pressure, and the tile floor in the bathroom seemed to be heated. The room had a flat-screen TV with built-in DVD player, which as Netflix lovers we really appreciated; it seems that hardly any hotels have DVD players so we were pleasantly surprised. The private deck was quite nice and since it was covered, it was really convenient for us to just leave our cooler outside; we didn't have to refill the ice at all.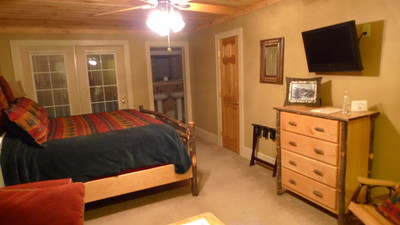 The lodge also has a neat policy for check-in and check-out: the doors have keypads instead of keys or cards, so they give you a code when you make your reservation, which means you can just show up and go right into your room without really checking in at all. In fact there is no front desk nor lobby nor anything like that, though there is a common area (also key-coded). Check-out is the same: you just leave. This is super appealing to us, but it did reveal what turned out to be the one big downside: it was impossible for us to get ahold of anyone from the hotel. There's a room phone with the standard "dial 0 for front desk" kind of label on it, but doing that only ever got us voice-mail, and they never returned any of our calls.
We didn't really need much from them: some extra towels would have been nice, and when we had made our reservation over the phone, they mentioned that we could get a discount on lift tickets from them, which we were hoping to do on Wednesday morning. We didn't pay for them in advance (with the reservation), fortunately, and we ended up just getting tickets at the mountain. And we did put out a "No room service / Do not disturb" sign on the door, because at hotels we generally don't want people coming in every day, messing with whatever our schedule is, and potentially rooting through our stuff; so perhaps the towels would have been replaced if we hadn't put the sign out, though it seems unlikely.
The other problem with the hotel was that the doors leading into the common area (and/or to the second-floor rooms) slam closed very loudly whenever anyone goes through them. Our room was right near these doors, and you could even feel the room shake a bit every time they closed -- which happened annoyingly often especially considering that there appeared to only be 2 or 3 other guests at the hotel during our stay.
In the room there was a "how was your stay" comments sheet, so I filled it out on the day we left, giving them high marks for everything except the service, and writing a note about the slamming doors and how it was impossible to get ahold of anyone. They later called us and said that our review hurt their feelings (no, seriously), and said that we should have called their cell phone number (which was apparently the one we got from the ad/website to make the reservation) instead of dialing 0 on the room phone. That is of course absurd; you don't put phones in each room with a "dial 0" message and then a) not answer and b) never return the voice-mails -- and you definitely don't call the guests after the fact to say that their review hurt your feelings, when the review contained praise and also valuable constructive criticism that if heeded would improve the business.
Despite those issues, I loved The Alpine Lodge and would definitely go back. Kim wasn't as crazy about it though, so we'll see.
On the Mountain
We didn't spend quite as much time actually skiing as we would have liked, due to a combination of factors: our (my) weird sleep schedule, us both having varying degrees of colds, and the fact that the Gore Mountain lifts close at 3:45 PM. (Their slogan is "More Gore!" but with the lifts closing so early, "Less Gore!" seems more appropriate.) Our skiing days were Wednesday and Thursday, and we skied about 3 hours each day.
The conditions were pretty amazing, due to all the snow that fell during our stay. In fact on our very first run we got onto an ungroomed trail that had about two feet of sink-into-it snow and no tracks. For me this was a real challenge, because I ski less than once per year, and had only done it twice in my life before; so I had a hard time in this deep powder and kept falling, which frustrated the heck out of me. The deep snow also made it really hard to clip your boots back into your skis after falling, adding to my aggravation. But Kim was very patient with me, and we managed to get down and then back up the mountain and onto some groomed trails.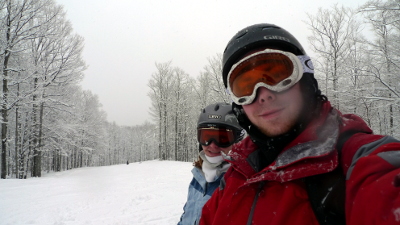 Another thing that frustrated me -- or that made my frustration worse -- was that I was really overheated. Partly this was because at first I was hardly moving, but it was also because I had 3 layers of clothes on: ski pants/shirt (basically thermal underwear), then sweatpants and long-sleeve shirt, and finally snow pants and jacket. I guess that's because my first ski trip involved 10-degree temperatures, but this time it was right around 30 degrees, so the middle layer was definitely too much. Removing that helped a lot.
The mountain itself was pretty nice, comparable in size to Jay Peak, though of course nothing like Steamboat Springs. But to me (with relatively little experience) the trails seemed long and numerous enough, and there were no lift lines since we went during the week. There were quite a few trails and lifts closed though, so your options for runs were somewhat limited. But as with our Jay Peak trip, there were some runs where we had the whole trail to ourselves, and none that were crowded by any means.
To Ski or Not to Ski
Part of the reason our first day of skiing wasn't longer was that I had to rent skis and boots and poles before we could get out there. Renting makes sense the first time you ski, and probably the second time, but by now, the time and hassle and expense of renting are starting to irritate me. It doesn't help that all the guys in the rental shop are obviously way cooler than me, and I look like a total noob getting my little rentals. (As an aside, the stereo in the rental shop was blasting out music, and I noted several Tool tracks followed immediately by Billy Joel -- ??)
Another reason I rent, though, is that I haven't yet decided whether to be a skier or a snowboarder. I haven't yet tried snowboarding, having only been on 3 short ski trips in my life. So until I get a chance to snowboard and make up my mind, I'm going to be stuck with rentals.
But this trip, especially that first trail where I just kept falling, reminded me of what I hate about skiing: the boots and the leg pain. Ski boots are just so freakin' heavy and uncomfortable. The leg pain is just because I'm not a super athlete like Kim (I mean, she really is), especially during the winter. I'm in pretty good shape, but skiing is just so hard on your legs; it takes tons of strength and control to be able to keep the skis together and to make the turns. You have to move your legs independently, and it's become clear to me that one of my legs is much stronger (or at least easier to control on turns) than the other. We did get a sweet exercise bike a couple weeks ago, so in the future this will be less of an issue since I'll be able to bike in the winter.
However I also realized that this is one huge advantage of snowboarding over skiing: since your feet are locked in place on a snowboard, you don't have to be constantly fighting (and straining) your legs to keep them in position relative to each other. I'm sure that you still need some leg strength to be decent at snowboarding, but you're doing different things with your legs than a skier does, and it seems to me that in this respect I'll like snowboarding a lot better.
So whether I will actually end up liking snowboarding better, I don't know yet, but I've decided that I'm snowboarding on our next winter trip.
North Creek Restaurants
There aren't a ton of restaurant choices in and around North Creek, at least not during the week, because several of them are closed Monday through Wednesday, or Tuesday through Thursday, etc. But considering the size of the main street area of the town, the restaurant selection is not bad. And it's nice that the handful of restaurants are all within short walking distance of the lodge.
On Wednesday morning we ate breakfast at Marsha's Family Restaurant. At around 10 AM, we were one of only two groups there. This is a typical diner-type place, which we don't really like, but it wasn't bad.
For dinner we went to Trapper's Tavern, which is inside the Copperfield Inn. It's beautiful inside, with lots of exposed log architecture. And with 4 or 5 other groups there, it was the busiest place we saw. We weren't blown away by our meals, but they were pretty good and we'd probably go back.
On Thursday morning we went to Common Roots for breakfast. It was again sort of typical diner fare. Suspiciously, the "home fries" were exactly the same as the ones from Marsha's. As always, I requested them to be extra crispy at both places; both waitresses said OK; neither place actually did it.
Lorenzo's in North Creek
Thursday night's dinner was the food highlight of our trip. We ate at Lorenzo's, which is the other restaurant inside the Copperfield Inn. We were the only people in the whole place, but we did get there at 5 PM right as they were opening. It looks extremely fancy, and you'd think there'd be a dress code, but there isn't; their menu even has a statement to the effect of "we will strive to provide a high-class dining experience without any pretension."
The waiter perfectly embodied this philosophy: he was dressed in formal attire and was extremely professional, yet also very friendly and helpful. He seated us right in front of the brick oven, which is the centerpiece of the open kitchen area. We could also see the freshly-made pasta drying on racks by the oven. And when I placed my order, part of which was the Baked Roman Style Semolina Gnocchi, the waiter recommended the Gnocchi in Parmesan Fondue instead, because it's apparently a customer favorite.
Everything on the menu sounded wonderful, and I decided to get three smaller dishes so I could try more things: the aforementioned Gnocchi in Parmesan Fondue, the Crispy Calamari with Smoked Tomato Vinaigrette, and the Roasted Radicchio di Treviso ("A hearty lettuce lightly marinated and roasted"). The gnocchi dish was one of the most creamy and delicious things I've ever eaten. The calamari were perfect: crispy, tender, and delicious. They're served with the vinaigrette on the bottom, underneath the heaping pile of calamari, so as not to allow the strong sauce to overpower the flavor and crispiness of the calamari. And indeed, once I got down to the sauce, every bite was a difficult decision, because the crispy calamari alone were amazing, but they were also great dipped in the sauce.
The radicchio was the only thing I didn't like; I think it just had a particular spice in it that I didn't care for. Or maybe we just hate vegetables, because Kim got the Grilled Broccolini, and we were both lukewarm on that as well. But her main dish was one of their brick oven pizzas, and she absolutely loved it -- which is especially high praise because Kim, like me, is a picky pizza eater.
In addition to being extremely pleased with the food itself, Kim and I were both amazed at the speed with which the chef prepared all 5 dishes. The chef's name was Denver, and since we were seated right next to the open kitchen, and we were the only guests there, we could see her preparing everything. Just like the waiter, Denver was very friendly, and we had a nice chat with her after our food was served.
The restaurant has a great atmosphere as well, partly because of the many huge windows which give a nice view of the snowy pine trees outside. We ate right around dusk, and there was lots of snow falling, which combined with the light and warmth of the brick oven to create a really cozy setting.
Our meal at Lorenzo's was certainly among the best dining experiences we've ever had.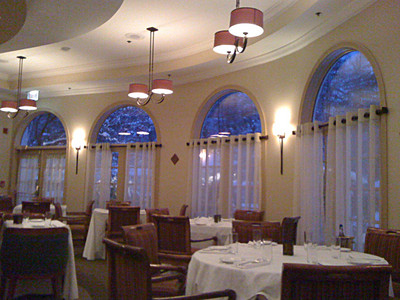 We drove home on Friday, and hit some snow on parts of this drive too. Driving through upstate New York, you pass through long stretches with nothing but trees surrounding the highway, and because of all the snow that had fallen, many of these huge trees were leaning way over, some actually onto the road. It was pretty crazy. And we tried to stop at a couple of restaurants, but they were stuck under a couple feet of snow and still being dug out around noon. Finally we found an Applebee's that was open.
It was a pretty great trip overall. The North Creek area is really nice, and the brochures in the area advertised fun summery water activities too, since it's right on the Hudson, so we might even go back for a hiking/rafting/kayaking trip during the summer months.


Posted by
Mar 31, 2010
| reply
on
Home – Create Post – Archives – Login – CMS by Encodable