« previous: Love the Sun, Ditch the Sunburn | next: Obama's Speech: So Full of Lies »
Kayaking the Lock 60 Loop on the Schuylkill River
Even though it was a disgusting 100 degrees on Saturday, and even though the river water was 90 degrees (no, really), Kim and I decided to paddle the lock 60 loop in Phoenixville/Mont Clare. Despite the heat, it was a nice trip.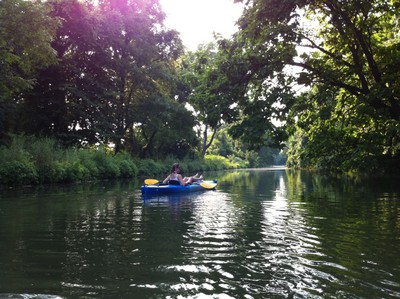 We started at the parking lot just below Black Rock Dam, where we got into the river. The first thing we did was paddle upstream to the dam to check it out (though we couldn't get all that close because it got really shallow, since the water level is a bit low: about 500 cfs at the Pottstown gage). Then we paddled downstream for about an hour, until we reached the portage point. This is easy to find because of the power lines: the portage trail from the river to the canal runs right under them. It's a quick 5-minute walk where you can drag your kayak over the soft grass and dirt, then you hop in the canal and paddle "upstream" back to the parking lot (of course the water isn't moving in the canal, but it's upstream relative to the river's flow).
The river at this section is pretty nice, with lots of small islands of really-soft-looking green plants, plus a bunch of ducks, geese, and cranes. And the canal is neat too, even though the water in it is of course somewhat stagnant. But it's neat because it's largely covered by a canopy of trees, and it goes right by a whole bunch of backyards, where people have set up small docks and fire rings and benches by the water. We spotted a few turtles too, though they were camera-shy and slid off their logs into the water before we could get any good shots of them.
Check out all the photos on Kim's site, and here's the GPS trail of our route: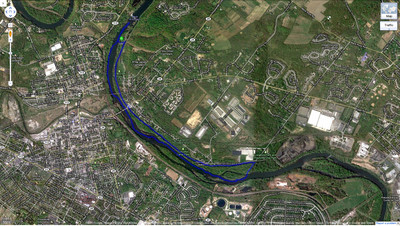 Previous kayak trip: Schuylkill River Kayaking: Pottstown to Linfield.
Next kayak trip: Kayaking the Lehigh River: Weissport Canal Loop.


Comments:
Reply to this message here:
[ Home – Create Post – Archives – Login – CMS by Encodable ]