« previous: The Primal Blueprint Carbohydrate Curve | next: Love the Sun, Ditch the Sunburn »
Schuylkill River Kayaking: Pottstown to Linfield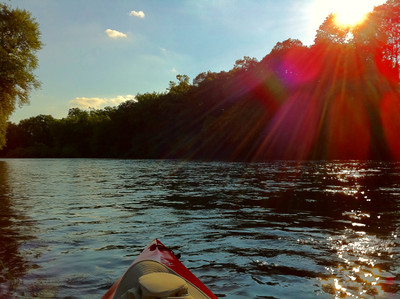 My second kayak run on the Schuylkill was from Pottstown (technically, North Coventry) to Linfield. The trip was 9.5 miles and took just under 3 hours.
I really like this section of the river. Maybe it's just because it was a nice sunny day, whereas my previous run (from Union Township to Pottstown) was on a cloudy day, but it seemed nicer and more rustic. You do pass the Limerick nuclear power plant, which is kind of neat, but after passing it, you're right in the path of the noise from one of its buildings, which is a semi-loud fan-type noise that lasts for about a mile.
One highlight of this run is a very small section of rapids right near the take-out point. When I say small, I mean, it's tiny; if it registers at all, it's certainly no more than a class-I rapid. So it's nothing that whitewater-lovers would get excited about, but it's pretty fun in the middle of a nice peaceful trip down the Schuylkill.
A bit before the rapids, I saw some guys on the right bank swinging on a rope swing out over the water. I asked if they used it to launch into the water, and they said yeah, but only when the flow is up around 4000 cfs. On this day, it was about 1000, and only 2-3 feet deep in that area; I can't imagine they see many days with the kind of discharge necessary to jump in.
I think one of the reasons I love the Schuylkill River so much is that it's right there. I mean, it's been right there my whole life, just waiting for me to discover it and get into it. I'm sorry it took me so long, but now I'm having a great time. It's no Yampa River, but measuring Pennsylvania against Colorado is not exactly a fair fight :)
Thanks to the sunshine, I was able to take some pretty nice kayaking photos this time, so check them out!
Previous kayak trip: Kayaking on the Schuylkill River (Union Township to Pottstown).
Next kayak trip: Kayaking the Lock 60 Loop on the Schuylkill River.


Comments:
Reply to this message here:
[ Home – Create Post – Archives – Login – CMS by Encodable ]